Sunspel Icons - The Classic T-shirt
A cultural icon and an everyday essential, the classic T-Shirt is the foundation of every man's wardrobe. Sunspel has spent the last 100 years perfecting it – and we still make it at our historic factory in Long Eaton.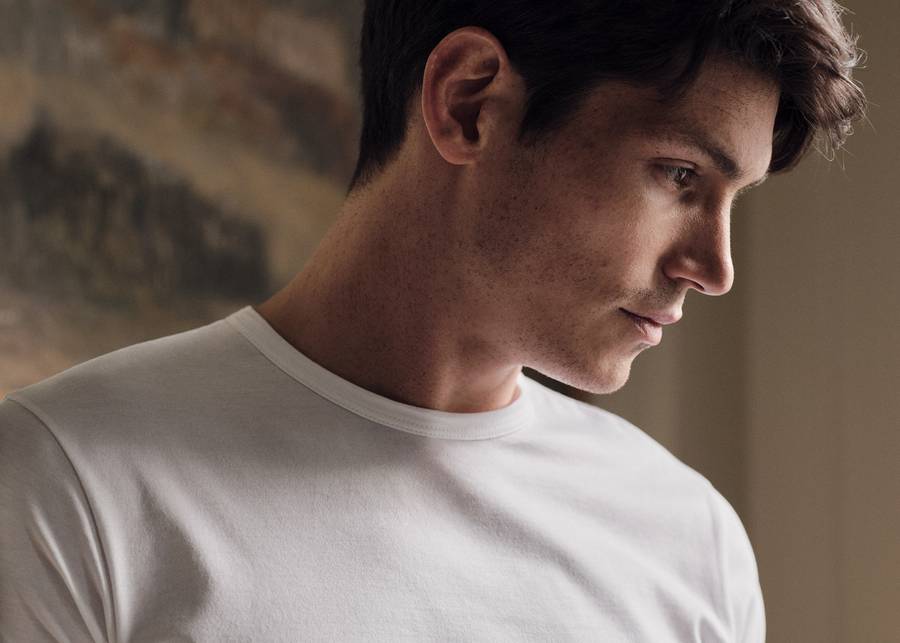 Sunspel began making T-Shirts in 1908. We've supplied the world as the T-shirt has evolved from underwear to outerwear, from symbol of youthful rebellion to everyday wardrobe staple. We've spent decades refining every last aspect.
Crafted in a luxurious extra-long staple Supima cotton for unparalleled softness, comfort and durability, the Sunspel T-shirt has a classic fit and only the most essential details. Widely recognised as the best T-shirt in the world, and worn by modern icons from David Beckham to Daniel Craig's Bond, it has taken a century of English craftsmanship to achieve perfect simplicity.
You can build your wardrobe around it.
ORIGINS OF AN ICON
In the late nineteenth century Sunspel revolutionised the underwear industry, using innovative technology to produce new, luxurious fabrics and exporting garments to the Far East and the hottest corners of the British Empire. Unlike traditional undershirts, Sunspel's new cotton garments were designed to be comfortable in any climate – and they included the simple, lightweight, short-sleeved 'vests' that we would now recognise as the earliest forms of T-shirt.
Over time, the simple, crew-neck T-shirt style pioneered by Sunspel made the transition from practical underwear to iconic outerwear, associated with American GI war heroes and immortalised in 1950s Hollywood by teenage rebels like James Dean and Marlon Brando.
Now the T-shirt is ubiquitous. It's the most basic wardrobe essential for every man – seen everywhere in the world, but perfected as a luxury garment by Sunspel.

MADE IN ENGLAND
How do you make the perfect luxury cotton T-shirt? At our Long Eaton factory we've been refining the process for a century. The key element is a unique Sunspel fabric known as Quality 82.
For Q82, only the highest quality extra-long staple Supima cotton fibres are selected. They're combed to remove imperfections, twisted together to create a fine, strong thread then passed over a flame, resulting in a luxurious yarn. The fabric is knitted on a circular machine where blowers remove loose fibres for a flawless finish.
Cut to a classic fit, the final T-shirt is exceptionally soft, comfortable and durable, keeping its shape and feel through multiple washes. It's a luxury you can wear every day, yet it will last you for years to come.
THE LUXURY WARDROBE ESSENTIAL
The Sunspel Classic T-shirt is designed to be worn on any day, in any season; as workwear or nightwear; under tailoring or paired with shorts. And a crisp white T-shirt over well-fitted jeans is as cool today as it was in the 1950s.
It's the luxurious foundation on which you can build your wardrobe.